Oklahoma Gov. Kevin Stitt ceremonially signed two bills supporting higher education pursuits of the National Guard at Rogers State University Oct. 17, News on 6 reported.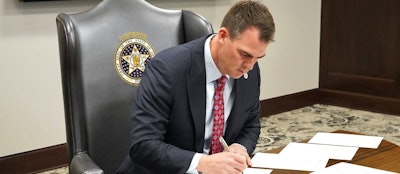 "We signed a couple bills this year to encourage recruiting, to encourage furthering their education for our military personnel," Stitt said. "And now Oklahoma just hit number one in the country the last couple months for recruiting."
Senate Bill 1416 gives Oklahoma National Guard members in-state status for higher education, which may lower the amount asked of them for tuition. Meanwhile, Senate Bill 1418 covers active guardsmen's fees and tuition costs.
Both bills are already in effect.
"Now I don't need to pay anything," David Defranc Ponce said. "In fact, I'm actually reaping some benefits. Which is fantastic because as a college student, finances are really important to us."
Scott Tairent said the bills removed a big burden and allowed him to focus on schooling. And Pau Sang said the legislation helped him avoid putting school debt on his family.