Former Virginia Gov. Doug Wilder is calling on Gov. Glenn Youngkin to fire Chief Diversity Officer Martin D. Brown, after Brown made comments at a Virginia Military Institute (VMI) event recently about DEI being "dead," VPM reported.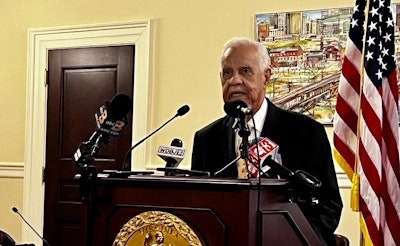 Brown, a Black Republican, was appointed CDO by Youngkin last November. The state office replaced "equity" in its name to "opportunity," making it Brown's Office of Diversity, Opportunity, and Inclusion.
"I have not asked for him to resign," Wilder said. "I'm calling for him to be immediately replaced by the governor, because it's in dereliction of his duties and responsibilities. And his statements do collective harm to all of the people of Virginia."
VMI, the U.S.'s oldest state-supported military college, has in recent years been getting attention on its issues of institutional racism, sexism, and sexual assault.
"[T]he comments from Brown signals a direct departure from the recognized needs for improvement at VMI," Wilder said. "And that he would so blatantly make such an inflammatory statement flies in direct contradiction into the face of the [role] that he's appointed to fulfill."
Wilder, the first African American to be elected a U.S. governor, said that Brown's comments were reckless and showed his "inadequacy," "lack of leadership," and "lack of accountability."
"Governor Youngkin will continue to advance equal opportunities — not equal outcomes — for all Virginians," said Youngkin spokesperson Macaulay Porter in a May 9 email. "This is too important of an issue to succumb to those seeking to cancel Chief Brown for challenging the groupthink of the progressive left's pursuit of equity at any cost."