Lawmakers are making another push to provide protections for military veterans regarding medical marijuana use in legal states. The protections would also extend to U.S. Department of Veterans Affairs (VA) doctors who issue recommendations to allow such use, Marijuana Moment reported.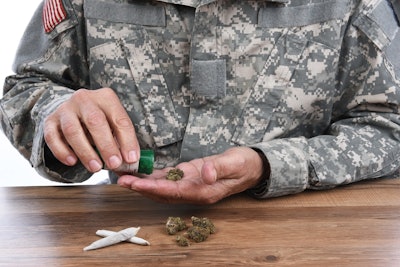 One of the bipartisan amendments is being sponsored by Reps. Brian Mast (R-FL), Earl Blumenauer (D-OR), Dave Joyce (R-FL), and Barbara Lee (D-CA), co-chairs of the Congressional Cannabis Caucus. The other is being proposed by Reps. Greg Steube (R-FL), Nancy Mace (R-SC), and Dina Titus (D-NV).
"I cannot tell you how many times I've heard veterans tell me that medical marijuana saved their life," Blumenauer said. "Our bipartisan amendment is a critically overdue step that will benefit millions of our veterans who deserve equal access as their civilian counterparts to state-legal marijuana programs."
The legislators are trying to prevent VA from using funds to "interfere with the ability of a veteran to participate in a medicinal marijuana program approved by a State;" deny services to veterans in state medical cannabis programs; or "limit or interfere with the ability of a health care provider of the Department to make appropriate recommendations, fill out forms, or take steps to comply with such a program."
To get floor consideration, the measures need to be made in order by the House Rules Committee, a panel which last week blocked multiple cannabis and psychedelics amendments filed for the annual military spending bill, the NDAA.
In Congress's other chamber, Democratic senators are aiming to pass marijuana reform amendments through its version of the NDAA, such as veteran medical cannabis use; protections for doctors recommending medical marijuana for veterans; and VA support for clinical trials on cannabis use in pain and PTSD treatment.
Separate from the NDAA, the Senate Appropriations Committee recently approved an amendment to allow VA doctors to issue medical cannabis recommendations. And House and Senate appropriators approved annual spending bills with protections for state medical cannabis programs.