The Pennsylvania State University (Penn State) is receiving $50,000 to support veterans who are students at Penn State Law.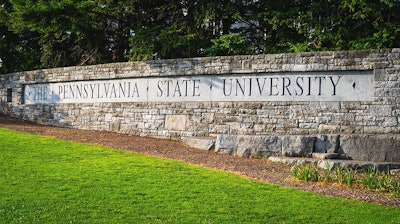 The money comes from Eric Young, a 1980 Penn State graduate, who made the commitment to endow the Eric Young Military Law Student Scholarship. Young is also offering a dollar-for-dollar match for any donation, up to $50,000, to increase the funds.
"I know this will serve a good purpose and that it's going to help people. It's worth it because it can improve someone's quality of life while at law school," said Young, who received his law degree in 1983 from the Thomas R. Kline School of Law of Duquesne University.
Veterans who served on active duty or left under honorable or general discharge and are – or plan to be – full-time students at Penn State are eligible.
"I hope that someday there will be some Marine, soldier or sailor who will do a good thing for our country, like leading a litigation case that will change policy and help people," Young said.
Young served in the U.S. Marine Corps for over a decade; as a claims and litigation attorney for the U.S. Army; as a senior claims and litigation counsel for the U.S. Coast Guard; as senior litigation counsel at the U.S. Department of Education; as a special assistant attorney for the U.S. Attorney's office.
He currently is senior counsel with the U.S. Securities and Exchange Commission.
"Service to others is invaluable," Young said. "Human beings need other human beings in their life, and we're social creatures. I hope I can be an example of helping us take care of each other, and I made this contribution so those who have used up their GI bill, those who have completed their undergraduate degree but want to go on into law school, can maybe go back to the military as attorneys, or be in private practice. This is a way that we can help those veterans continue their careers and give them a taste of Penn State."