It's been 50 years since the first women joined The University of North Georgia's (UNG) Corps of Cadets.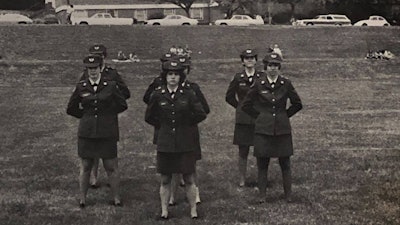 On Sept. 16, 1973, UNG become the first of the six U.S. senior military colleges to have women in its corps.
The first female cadets were Susan Harris, Jean Raines, and Janet Walls, and they were assigned to their own platoon, Foxtrot Platoon. Walls was the first to commission as an Army officer from UNG.
"I want to make sure my own daughter and my granddaughter understand there should be no barriers to what you want to accomplish," said seasoned educator Colleen Cannington Bryant, who started a year after the three and served in active-duty Army and Army Reserve.
By the 90s, the Corps of Cadets had 24 women, said Jenny Muller, '94, UNG Foundation trustee and Development Committee chair.
In 2019, Col. Greta Railsback, '99, became the first to become a full colonel with her promotion. And this year, Hayley Farmer, '22, became the first female UNG graduate to complete the Army's Ranger School.
"We did it because we wanted to be part of the military and go on active duty," veteran Deborah Stephens-Munoz, '79, said. "We knew we were paving the way."